Bowflex SelectTech 552 Adjustable Workout Exercise Dumbbells Weight Set
Advantage
A great, space-saving addition to any home gym
Improve your strength and fitness levels
Suitable for anyone interested in fitness, from beginner to pro
Allow you to switch up your routines with additional exercises
Easy to clean
Disadvantage
Quite difficult in the first time using them
Bowflex SelectTech 552 Adjustable Workout Exercise Dumbbells Weight Set - The Best Way To Help You Achieve Fitness Goal
If you're considering purchasing these most popular adjustable dumbbells, our Bowflex SelectTech 552 Adjustable Dumbbells Reviews will be quite helpful. The set, as the name implies, is easy to adjust and adapt to any place, including your small flat. Bowflex SelectTech 552 Adjustable Workout Exercise Dumbbells Weight Sets offer a good maximum weight capacity and are reasonably priced. They support versatile workouts and allow you to change from one exercise program to the next much easier. You will have a personal trainer as well as enhance your fitness level more efficiently and fast as the set is compatible with the Bowflex SelectTech® training App that is available for both iOS and Android. For further information, scrolling down.
Things you should know about Bowflex SelectTech 552 Adjustable Dumbbells
The Bowflex SelectTech 552 Adjustable Dumbbells are a great-valued example of home gym devices. The 552's are widely regarded as the greatest adjustable dumbbells on the market, and they come at a great price. The Bowflex SelectTech 552 Adjustable Dumbbells have selectable dials that make it simple to change the weights. This makes moving from one workout to another a breeze; all you have to do is turn the dial to adjust the resistance, allowing you to gradually increase the weight.
Bowflex adjustable dumbbells come with a slew of remarkable features to help you get the most out of them. For example, quality grips have been added for added stability and comfort. Molding around the metal plates is also used to promote a smoother, quieter workout. The dumbbells are also compatible with the free Bowflex SelectTech training app, which enables you to access a large library of guided exercises, workouts, as well as training plans. If you choose the Bowflex SelectTech stand with media rack, you may improve your workout even more. Additional attachments, including benches, dumbbell stands, barbells, and kettlebells, are available for purchase on Bowflex's website.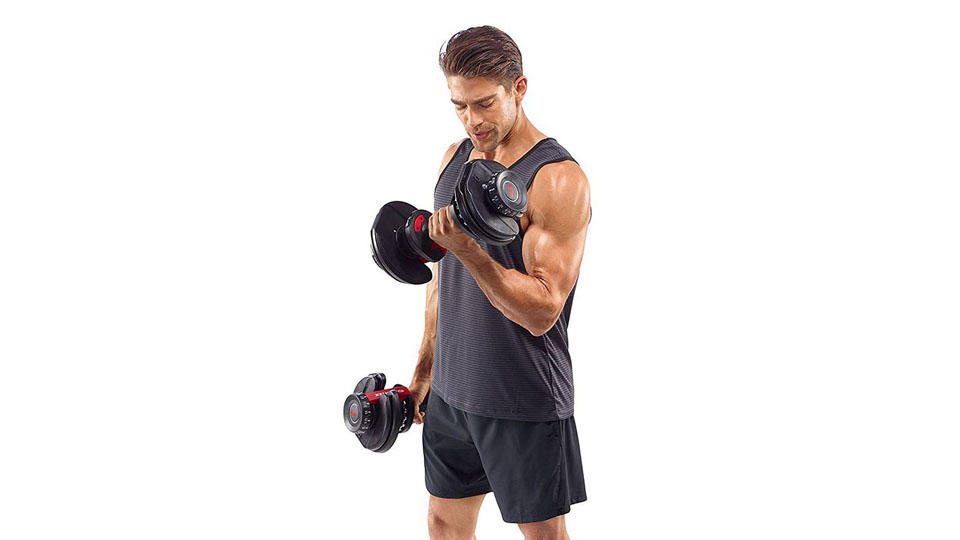 Bowflex SelectTech 552 Adjustable Workout Exercise Dumbbells Weight Set Review by TopFreeReviews
What we like Bowflex 552 dumbbell pair
In our effort to assort hundreds of home gym owners to find the best adjustable weights or dumbbells for their workouts, it's our mistake if not to mention the Bowflex 552 Adjustable Dumbbells. Also, there are tons of Bowflex SelectTech 552 Adjustable Dumbbells Reviews out there mentioning the advantages and stand-out features of these items. The Bowflex 552 Adjustable Dumbbells are a bit different in style than standard fixed dumbbells, but they perform admirably when compared to their pricing and other competitors on the market. We've experienced different brands providing home equipment (we now have 8 in our home gym), and we'd say that Bowflex dumbells are among the best products for people who love working out.
In our opinion, their ease of adjustment is among the best features of these tools. It might take about 6-10 seconds to adjust from the base weight to the weight you wish. The selector dials on the dumbbells are so smooth and you can adjust them quickly. What's more, this Bowflex SelectTech 552 adjustable dumbbell set offers weight increments in 2.5 lb. every click of the dial for the first 25lbs but increases 5lb. thereafter. We love this as not many dumbbell racks in commercial gyms offer it.
Because our home gym is not as large as a commercial gym, these Bowflex tools are the best options for us. They are designed with the aim not to clutter your workout space. The sleek design with red and black colors makes these dumbbells look great and encourage you to use them more often. We found it challenging the first time using them, but then we do more fluently after we've done it a few times. Another thing we were impressed by these products is that they worked quietly. We think that the Bowflex brand has taken it into account when creating these dumbbells. It's amazing if you want to workout in the morning without waking up others in your house.
With thousands of positive Bowflex SelectTech 552 adjustable dumbbells reviews and there are many individuals who are also big fans of the brand, rest in peace when buying this pair.